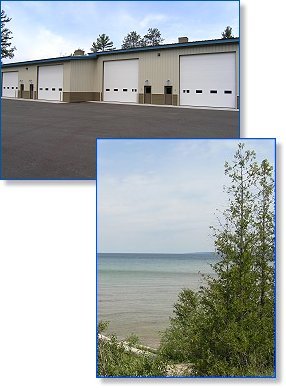 North Star Commercial Condominiums
You might remember the days when your need for storage simply didn't exist. Odds are that that memory is quite old now. Time passed. You bought things and some of them are quite big. You may have them wedged into your garage, to the exclusion of the cars you'd like to keep there. Worse, you may have them in a variety of unheated rental spaces, your brother-in-law's dirt floor pole barn, or (to your neighbor's consternation) your backyard.
In contrast to that, North Star Commercial Condominiums creates a variety of useful alternatives by offering storage condos for sale near Lake Michigan (the condominiums are also available for lease). For example, it takes a super-strong, high quality, heated storage/work/recreation building and couples it with stunning views of Lake Michigan. It takes voluminous space and links it to an aesthetically pleasing design. It takes proximity to almost everything (Charlevoix 6 minutes, Petoskey 12 minutes, Bay Harbor 8 minutes) and combines it with a deep-woods-by-the-side-of-the-lake feeling. Add certain other modern conveniences like cheap, abundant heating, access to satellite television, telephone and high-speed internet and suddenly a whole new set of opportunities opens up. Now mix in the mezzanine - your own 'personal space' - to act as an office, recreation room or something else altogether. Is this just storage or is it function plus style? Your call, because it can be your environment to fashion in your own way.
Now, with revisions to our phase II building, 'The Woods', you have the chance to create your own structure from the ground up! A customized space, to incorporate amenities that satisfy your personal requirements. Square footage, door sizes, partitioning, plumbing, heating and electrical specifications all designed by you to meet your particular needs, without forfeiting the benefits of lower cost and superior amenities that a storage condominium clearly offers. Call it the best of both worlds. Construction costs couldn't be lower than they are right now and the accessibility of North Star is perfect for anyone in the Bay Harbor, Charlevoix, Petoskey and 'north-side' Walloon or Lake Charlevoix areas.
Call Ken at 231.582.9709 and get details on our storage condos for sale near Lake Michigan!
Additional Documentation

[ Site Plan (Legal) ] [ Main Level Blueprint ] [ Mezzanine Level Blueprint ] [ North & East Elevations ] [ South & West Elevations ]